DiSHES & Industry News

The object of this page is to bring you the most recent global news with regards to the Hospitality and the Food and Beverage Industries.
These articles are brought to you in cooperation with many of the world's publishers relevant to the industry.
In addition to this DiSHES will keep you updated with their own developments.
For instance we are currently developing a fully secure web based project information system. This is where all relevant design information for a project will
be available online to whom ever has the required permissions. No more excuses like "I have never received that". When new information is posted all concerned will be notified automatically.
News from the DiSHES team
The DiSHES team are pleased to announce we have been awarded the total Food Service Design Consultancy for the very prestigious Resorts World at Sentosa project in Singapore. This is a 3 year project for the team and we are very proud to be associated with this mega project.Please visit the following link to view the project details www.RWSentosa.com
DiSHES also has pleasure in announcing they have also just been awarded the Hyatt Regency and Andaz Hotel, Hainan Island, China and the Park Hyatt Koh Samui, Thailand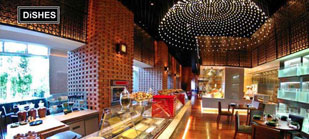 ---
Global Daily News Title
Click on the link to read the latest daily news